VooPoo
VooPoo Drag Max Kit
VooPoo DRAG Max Kit
G R O U N D B R E A K E R   - - -   T H E   M A X   P O S S I B I L I T I E S .
The Drag Max is an epoch-making dual battery device with a magnetic atomizer, compatible with all PnP Series Coils. The maximum 177W power output is provided by the GENE.FAN 2.0 chip while the fusion of leather and metal material gives the device a unique elegance. The Drag Max will be the ultimate solution for performance and easy-of-use.
Max 177W Output Power
Brand New GENE.FAN 2.0 Chip
PnP Magnetic Atomizer
Dual UI Interfaces
5V/2A Type-C Fast Charging
Dual 18650 Batteries 
METAL MEETS LEATHER - Cold and tough metal, soft and gentle leather; after nearly 300 times of design and remodeling we finally found the perfect merge of materials for the Drag Max, giving you a luxurious and comfortable vaping and holding experience. 
ELEGANT & FLAMBOYANT DESIGN - The Drag always maintains its crazy pursuit of refinement, modernity, and individuality; each color strives to be the perfect work of art.
GENE.FAN 2.0 - The newly upgraded GENE.FAN 2.0 Chip has stronger, explosive power, more stable output, and richer intelligent functions than the previous generation.
Mod Specifications:
Material: Leather + Zinc Alloy
Output Power: 5-177W
Output Voltage: 6.4-8.4V
Resistance: 0.1Ω-3.0Ω
Battery Capacity: Dual 18650 (not included)
DUAL UI FOR DIFFERENT STYLE - Four top UI design masters have created two differently styled UI themes for the 1.08' TFT color screen of the Drag Max, which are both practical and beautiful. To switch between the UI interface options, simply press the "+" and "-" buttons at the same time to enter that mode.
KEEP IT FUN & PROFESSIONAL - The Drag Max supports the easy-to-use SMART mode for beginners and the power-free RBA mode, often desired by most professional vapers. Press the ignition key 3 times to switch between SMART and RBA Modes.
Pod Specifications:
Capacity: 4.5mL
Material: PCTG
Resistance: 0.2Ω (PnP-VM5) / 0.15Ω (PnP-VM6)
CREATING A MAGNETIC MOMENT - The Drag Max is equipped with a magnetic atomizer so all you have to do is gently pull on the pod to remove it from the device in order to fill or change the core with ease. Bring a more convenient and user-friendly experience!
UNIVERSAL PNP ATOMIZER PLATFORM - Creation makes ideas come true. We are committed to creating a low-cost, universal atomizer system so we present to you the magnetic PnP Atomizer platform.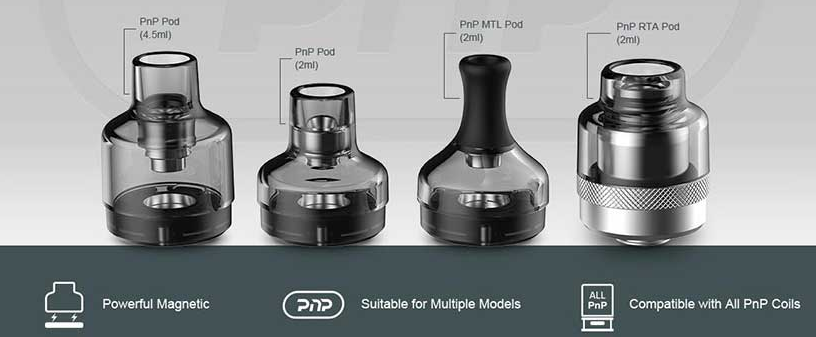 IMPRESSIVE PNP FLAVOR - Equipped with two dedicated coils, the VM5 0.2Ω and VM6 0.15Ω coils, the strongest combination of the PnP Series, although all other PnP coils are also compatible.
PnP-VM5 0.2Ω Coil
DL
Type: Mesh
Range: 40-60W
Suggested E-Liquid: Nicotine ≤ 10mg
PnP-VM6 0.15Ω Coil
DL
Type: Mesh
Range: 60-80W
Suggested E-Liquid: Nicotine ≤ 10mg
STAY POWERED ALL DAY LONG - The Drag Max is powered by two external 18650 batteries to provide long standby energy. The upgraded 5V/2A Type-C fast charge can increase the charging speed by 50%!
MULTIPLE PROTECTIONS - Eight safety protections are included; overtime, short-circuit, overcharge, output over-current, over discharge, over temperature, balance charge with different brand battery, and battery reverse protection.
Kit Includes:
1 x Drag Max Device
1 x PnP Pod 4.5mL
1 x PnP-VM5 0.2Ω Coil
1 x PnP-VM6 0.15Ω Coil
1 x Type-C Cable
1 x User Manual